R. Seelaus & Co., LLC Expands the Capital Markets Team with the Addition of Tanaisha Myrick
Chatham, NJ – December 20th, 2022 – R. Seelaus & Co., Inc. ("Seelaus"), a women-owned, full-service financial firm, is pleased to announce the addition of Tanaisha Myrick as a Capital Markets Analyst.
Tanaisha Myrick joined the Seelaus Capital Markets Team in November 2022 while pursuing a B.S. in Computer Science and an M.S. in Data Science at Saint Peter's University. Tanaisha is a native of Jersey City, NJ.
While at SPU Tanaisha served as an IT professional at Hudson County Community College, her alma mater, where she obtained an A.S. in Science with a concentration in Computer Science and Nursing. She was an active member of the honors program at her university, the National Society of Leadership and Success, and Phi Theta Kappa.
In this role, Tanaisha will support the Capital Markets team and learn every aspect of the business.
"I am thrilled to join the Seelaus team and grateful for the opportunity to learn all facets of the capital markets business."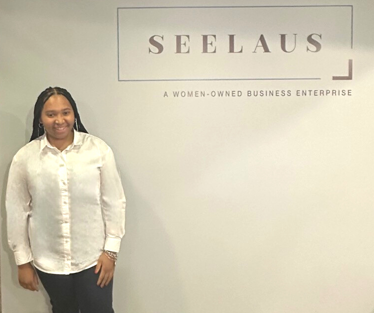 About R. Seelaus & Co., Inc.
R. Seelaus & Co., Inc. was founded in 1984 by Richard Seelaus, originally as a municipal bond broker-dealer. The firm has since become a certified women's business enterprise ("WBE") and has grown into a full-service financial firm that is mission driven in its commitment to creating more opportunities for women in the financial services. R. Seelaus & Co., Inc. and its subsidiaries offer investment advisory, asset management, capital markets, brokerage, fixed income and equity trading, institutional sales, and insurance services. The R. Seelaus & Co., LLC subsidiary is a broker dealer registered with the SEC and member of FINRA, and the subsidiary Seelaus Asset Management, LLC, is an SEC Registered Investment Advisor ("RIA"). With various fixed income trading desks and more than sixty professionals, both entities serve individuals, families, public and private companies, non-profit organizations, and institutional investors. The firm has offices in New Jersey, Connecticut, Florida, Illinois, North Carolina and Massachusetts. For more information about R. Seelaus & Co., visit www.rseelaus.com