A Women's Business Enterprise with Deep Roots
Seelaus was founded more than 35 years ago and has grown into a full-service broker-dealer with wealth management capabilities. As a certified women's business enterprise (WBE), we offer the expertise you need and the diverse perspective you seek.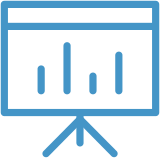 Serving a Broad Client Base With Comprehensive Services
We serve individuals, families, public and private companies, non-profit organizations, institutional investors and corporate issuers. We offer bond brokerage, fixed income and equity trading, institutional sales and capital markets services.
The firm operates with four trading desks serving the needs of our retail and institutional clients. Our financial advisors have ready access to our traders and analysts who closely monitor the national markets throughout the day.
A Trusted Partner in Any Market Environment
We recognize that our clients are our most important asset. This fundamental philosophy, together with our straightforward approach, offers our clients tremendous value and has made our firm a trusted partner in any market environment.
Institutional Sales, Trading & Underwriting Excellence
The fixed income sales and trading team includes upwards of 25 professionals, many of whom have decades of experience and strong relationships with institutional and retail trading desks across Wall Street. We are an active participant on electronic trading platforms, helping our clients meet their best execution and liquidity objectives.
Seelaus specializes in interest rates, asset backed and mortgage-backed securities, commercial paper, agency, corporate and municipal bond trading and sales.
Capital Markets Expertise
Seelaus is an active participant in both the Debt and Equity Capital Markets working with a variety of Fortune 500 companies as well as smaller corporates on their funding and capital structure needs. The depth and experience of the capital markets team has made Seelaus a trusted partner for our clients as both a co-manager and lead manager on debt transactions, co-manager and selling group member on equity IPOs, named agent on commercial paper programs, and executor of share repurchase programs.
As an authentic WBE-certified, women owned and women led firm, Seelaus can offer treasury teams an opportunity to help them showcase their support for diversity in both a very visible and meaningful way. Our mission to create and enhance opportunities for women in finance and how we deliver on that has resonated with clients broadly. There is a direct line between the fees we earn in our capital markets activities and the opportunities we are able to provide women in finance, and the support we give to our communities and organizations that share our vision.
Private Client Services
From wealth management to retirement and financial planning services, Seelaus is a full-service partner helping clients reach their most cherished goals. We work with individuals, families and businesses on everything from charitable giving and elder care, to tax strategies and navigating the financial challenges of marriage, parenthood and other milestones.